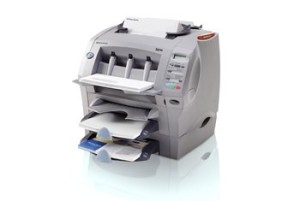 OfficeRight™ DI200 Inserting System
| | |
| --- | --- |
| Dimensions | 365mm without 2nd feeder (H), 400mm with 2nd feeder (H), 440mm(L), 530mm(D) |
| Weight | 17kg |
| Electrical | 240v, 50Hz |
| Speed | Up to 15 letters per minute |
| Envelope Feeder Capacity | 60 envelopes @ 90gsm |
| Sheet Feeder Capacity | 80 sheets @ 80gsm |
From invoices to promotional inserts Pitney Bowes latest folding / inserting equipment can automate the collation of your mailings with ease. All your critical communications flow the mail – outbound invoices, incoming payments, promotional mailings that generate orders, as well as payroll and vital employee communications.
If you are operating a small to medium sized business or department you know that folding, inserting and sealing mail by hand is time consuming. Now is the time to let Pitney Bowes help – we have developed a wide range of office automation solutions that are affordable, reliable and very easy to use.
Our OfficeRight™ Inserting Systems will streamline your communications and increase your staff's productivity – leaving them free to carry out all sorts of other activities to help grow your business.
Processing Speeds: Up to 900* DLX Envelopes per hour.
Cost Control: Save money on every mail piece.
Ensure all your mail is folded to DLX in order.
Save up to 50% on each item by folding A4 (flat) mail to DLX.
Operational Efficiency: In house control.
Save valuable time in preparing your mail: process 15 letters per minute.
Eliminate the manual processing of mail and free up your staff to get on with more productive or business critical takes.
Ease of use: simple menu driven solution that anyone in your office can use.
Communicate with existing customers using frequent, relevant and professional mailings.
Improve the presentation of you mail increasing openability.
Mail more often: with cycle speeds of up to 900 mail pieces per hour you will have the ability to mail your customer with ease.
Easily add promotional inserts or flyers to cross sell other services.
Cashflow: Manage and control transactional mailings.
Add business reply envelopes to your transactional mail such as invoices or statement to encourage a more timely remittance.
Optional Accessories: Second sheet feeder tray.
---