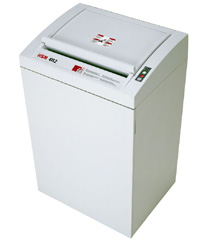 HSM 411.2
Width (mm) - 595
Depth (mm) - 470
Height (mm) - 990
Watts - 2100
Volume (litres) - 146
Throat (mm) - 400
Speed (mm/s) - 100
Casters - NO
Switch - OPTICAL
S6
Cut Style - Strip
Particle Size (mm) - 5.8
Capacity - 51-53
Security Level - 2
SCEC Level - N/A
Weight (kg) - 74
S4
Cut Style - Strip
Particle Size (mm) - 3.9
Capacity - 38-40
Security Level - 2
SCEC Level - N/A
Weight (kg) - 74
C
Cut Style - Cross
Particle Size (mm) - 3.9 x 50
Capacity - 33-35
Security Level - 3
SCEC Level - N/A
Weight (kg) - 82
CF
Cut Style - Cross
Particle Size (mm) - 1.9 x 15
Capacity - 20-22
Security Level - 4
SCEC Level - Class B
Weight (kg) - 82
CSF
Cut Style - Cross
Particle Size (mm) - 0.78 x 11
Capacity - 12-14
Security Level - 5
SCEC Level - Class A
Weight (kg) - 82
CSFX
Cut Style - Cross
Particle Size (mm) - 1 x 5
Capacity - 7-8
Security Level - 6
SCEC Level - Class A
Weight (kg) - 82
At the maximum security level, HS Level 6, this security expert meets all demands.
Furthermore it also shreds CDs, credit & store cards as well as floppy disks. Note: Some high security models only shred paper.
Touch-sensitive keypad for continuous and reverse operation.
Auto-stop when waste bag is full or door is open.
---